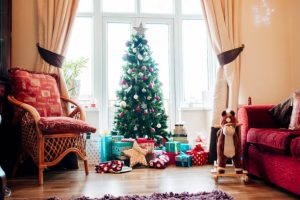 Remember the movie, Home Alone? The homeowners were away and the thieves, although thwarted by a child, knew that during the holiday season homeowners are frequently out of their houses. During the holiday season thefts are at their highest.
Increase in Holiday Season Theft
There are several reasons why theft increases around the holidays:
The sun sets earlier in the fall and winter months. Darkness is the prime time for breaking into houses. Many times thieves break in and go before the homeowners get home from work.

Big hauls are effortless for thieves. Houses are decorated and most likely have gifts inside. Unopened presents can easily be sold on the internet.

Casing a house becomes easy. The early darkness during the fall and winter months means shades and blinds are left open after sunset until the time the people arrive home giving a clear view of the inside.

House decorations are part of holiday tradition, but it's a dead giveaway for thieves that there are goodies inside. 

Sadly, most

theft is committed by family or friends.

The holiday season is a time when we celebrate with those closest to us, but invited guests have easy access to your valuables. 
Protecting Yourself From Holiday Thefts
During the hustle and bustle of the holiday season when thefts are the highest, there are things that you can do to protect your family and home. 
Here are some tips to keep thieves away:
First, have the proper insurance coverage to protect against robberies. Speak with an insurance agent to get the appropriate policy.

Keep track of your packages. With so many people ordering gifts online, packages are often left outside your door. Here are

tips to prevent porch theft:

Don't let your deliveries sit out for long.

Ask a neighbor that is home during the day to take in your packages.

Ship to an alternate address such as your workplace.

Have your purchases shipped to the store or a local shipping store.

Install a lock box.

Request a signature on delivery.

Insure your purchases in case they are stolen.

Keep purchases out of sight. In your home, hide them so that they aren't visible; and when shopping, store your bags in the trunk, not in the back seat.

Document all of your purchases especially if they are valuable. You may even want to photograph them.

Be sure to always lock your doors and windows, including the car doors. You may also want to install an alarm system and/or security cameras. Consider leaving a light on or installing smart lighting, as thieves tend to pass a house if they think someone's home. 

Be aware of your surroundings. When shopping or leaving your car with your arms full, you may not notice anybody lurking around. Make sure to remain alert and leave quickly.

Cut up boxes and cartons when you place them at the curb for garbage/recycling. If not, thieves will see what you purchased and take advantage of the opportunity. 

Keep your handbag close. Thieves are always looking for

opportunities

to take your money. Protect yourself by avoiding:

A purse draped over the back of a chair.

A wallet visible in your purse. 

A purse or wallet left unattended in a shopping cart or unlocked car.

A purse left in vacant offices or fitting rooms.
Enjoy the Season
Following these simple tips can help ensure that your holiday celebration will be a joyful and remembered time by friends and family. The Law Office of Andrew Maze wishes you a happy and theft free holiday!