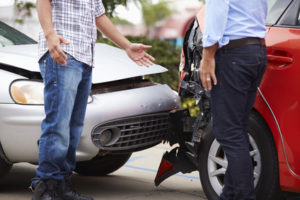 In New Jersey, even if the accident is partially your fault, you can bring a claim for injuries. What happens is, at the end of the case when we're trying to settle with the insurance company or if we have to go to trial, a jury can determine who is at fault what percentage and if you're, for example, at fault 10-percent for an accident. The jury will have to examine the circumstances and facts of what actually happened in the accident to determine the percentage of who is liable. They may have to interview any witnesses of the accident that took place, bring in experts, and take a look at surveillance cameras to find out any additional details. It is difficult to recreate an accident
After this determination has been made, the jury would give you whatever damages you're entitled to or the insurance company would settle for whatever damages you're entitled to and deduct 10-percent of that value. So unless you're more than 50-percent at fault in New Jersey, you can still bring a claim. Once you're 50-percent at fault, you still get to recover half of your damages. However, if the damage that has been done is more than 50-percent your fault, you are no longer able to collect any damages.
If you are in need of experienced legal counsel in New Jersey, please contact The Law Office of Andrew S. Maze for any criminal and personal injury matters.