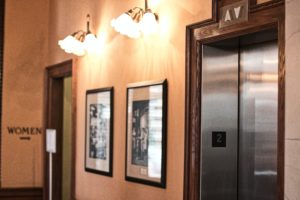 It is easy to forget that an elevator is a machine that needs constant maintenance. When boarding an elevator, an accident might not even cross your mind during the quick ride. However, it is important to understand that accidents can happen anywhere, elevators included. If you have been injured in an elevator accident, please reach out to an experienced personal injury attorney to discuss your eligibility for compensation. Continue reading to discover the most common causes of elevator accidents and injuries involved in elevator accidents. Discover the statute of limitations put into place in Connecticut to crate a successful personal injury claim in the allotted time.
Common Causes of Elevator Accidents
The most common causes of elevator accidents often have some type of negligence involved. The factors that are commonly associated with injuries sustained in elevators are as follows:
Failing to keep equipment up-to-date
Pully system malfunction
Negligent elevator design
Mechanical breakdown
Improper installations
Drive malfunction
Faulty wiring
Power failures
Abrupt stops
Door operator errors
Common Injuries Sustained in Elevator Accidents
The most common injuries sustained in elevator accidents are as follows:
Head trauma
Crush injuries
Back injuries
Broken bones
Wrongful death
Severed limbs
Neck injuries
Cuts and bruise
What should I do after being injured in an elevator accident?
If you have been injured in an elevator accident, there are a few steps to take to protect yourself and your future. Having a plan can make an incredible difference in the aftermath of your accident. Follow each of the below steps following your injury:
Call 911. The police will bring medical assistance with them to the scene to treat any injuries. They will also be able to conduct a police report which you should collect a copy of before leaving the scene.
Before the police arrive not the scene, if you can, take photos of the accident scene and your injuries.
Speak with any witnesses to the accident and collect their contact information.
Reach out to a knowledgeable personal injury attorney. They will be able to help satisfy the burden of proof to recover the compensation you require.
What is the statute of limitations for a personal injury claim in New Jersey?
In New Jersey, the statute of limitations for personal injury claims is generally two years. This is important to understand to avoid being barred from suing. You should take legal action within this period of time from the date of your accident. To get started today, reach out to our knowledgeable personal injury attorney who will walk you through the claims process. We are ready to fight for your right to compensation.
Contact our Firm
Our firm understands how serious criminal and personal injury cases are. We are prepared to guide you towards a favorable outcome because we believe false accusations or preventable injuries should never cause a person harm. This is why those who require experienced legal counsel in New Jersey should do themselves a favor and contact The Law Office of Andrew S. Maze today for any criminal and personal injury matters.