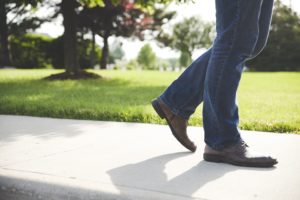 When you slip and fall or trip and fall in New Jersey, you have to prove that the property owner had some kind of negligent or defective condition on their property. There are a large number of reasons that someone could fall on another person's property and the owner may not even realize that they could be considered negligible. For example, the stairs were not the right size; the handrail was loose; the lighting wasn't good; they didn't properly clear snow or ice; they didn't maintain the sidewalks or something else of that nature. There are a lot of factors that will go into your trip and fall case but one of the most important things that can help you in one of these cases is that if you are able to, take pictures of the area that you were injured in immediately after the injury occurred. This can be a strong source of proof in your case and make it easier for your case to progress more quickly. In the event that you can prove that the owner of the property was negligent to the safety of their property, then generally you will be able to recover for your damages. Some of these damages may include your injuries, your pain and suffering, your lost wages, and your medical bills, depending on your particular situation.
New Jersey has a statute of limitations of two years from your initial injury that you must file a lawsuit within for personal injury matters. It is important that you file your trip and fall accident claim within two years of the date of your injury, otherwise, you will not be able to successfully bring a case against the responsible party.
If you are in need of experienced legal counsel in New Jersey, please contact The Law Office of Andrew S. Maze for any criminal and personal injury matters.