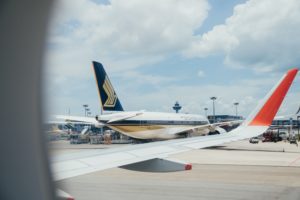 During the holiday season, we often find ourselves rushing from place to place, getting stuck in traffic, and trying to catch flights. When we are excited about seeing friends and family, we are usually stressing about buying the perfect gifts, making sure we see our loved ones (whether it be in-person or over video chat), and lots of cooking. In the midst of the holiday chaos, becoming injured is probably the last thing on your mind. But, because so many people will be traveling in the coming months, airport injuries may occur. Many people have a fear of flying, but most of us do not consider the possibility of becoming injured while simply waiting for a flight. Read on to learn more about airport accidents and what to do if you become injured.
Most Common Airport Injuries?
Airports have a lot of different amenities. You can grab food, enjoy a beverage, and even go shopping. Because airports are so multi-faceted, there are a lot of different aspects to maintain. If an airport is not properly maintained, serious injury can occur. The most common airport injuries include:
Slip and falls

Beverage spills and wet bathroom floors can cause serious injury

Parking lot accidents

A poorly maintained parking lot can be dangerous. This may include potholes, insufficient lighting, and insufficient security measures.

Airport construction, maintenance, renovations, and debris

Faulty elevators and escalators

An injury at baggage claim

Curbside accidents

Transportation accidents
It is important to remember that if you are injured, you will want to provide proof. This proof may include taking photos and videos of the hazardous conditions that caused your accident and gathering the contact information of any witnesses.
Who is Responsible for My Injury?
Depending on the cause of your accident, you may be able to file a claim for premises liability, or product liability.
It can be difficult to determine what type of claim to file, and what party to hold responsible. Is it the airport owners? Airport maintenance? A business within the airport? As a result, you will want to speak with an experienced personal injury attorney. A personal injury attorney can help you figure out who is responsible and help to hold them accountable.
If you or a loved one is involved in an airport accident, contact a skilled New Jersey personal injury attorney.
Contact our Firm
Our firm understands how serious criminal and personal injury cases are. We are prepared to guide you towards a favorable outcome because we believe false accusations or preventable injuries should never cause a person harm. This is why those who require experienced legal counsel in New Jersey should do themselves a favor and contact The Law Office of Andrew S. Maze today for any criminal and personal injury matters.