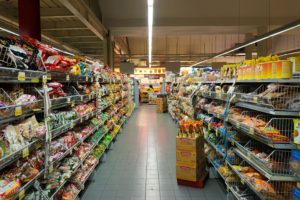 Supermarket shopping may feel like a mundane errand. But, it is more dangerous than you may realize. Supermarkets are full of various products and appliances, and if the supermarket grounds or equipment are not properly maintained, someone can be seriously injured. If you are injured in a supermarket accident, you may be entitled to recover compensation. Read on to learn more about supermarket accidents in New Jersey. 
Common Causes of Supermarket Accidents
Some of the most common causes of supermarket accidents are as follows:
Inadequate lighting

Aisle obstructions 

Water spilled on restroom floors

Tainted or spoiled food

Slippery entrances and exits 

Poor pavement and walkway conditions

Freshly mopped floors without proper hazard warning signs

Unstable displays

Potholes in supermarket parking lots

Falling debris and falling items from the shelves

Broken or defective grocery carts

Improperly positioned floor mats

Inadequate security
Common Injuries Caused by Supermarket Accidents
Because the majority of supermarket accidents are slip and falls, the most common accidents sustained include: 
Concussions and other traumatic brain injuries

Back and spinal cord injuries

Fractured wrist or arm

Fractured legs

Cracked pelvis

Fractured hips

Cuts and bruises

Head wounds

Torn ligaments 
How to Recover Compensation
If you wish to take legal action for your injury, there are a few important steps to take:
Seek medical attention. Visiting the hospital will ensure that your injuries are cared for while simultaneously documenting their origin and extent.
Document the scene. One of the most important things you can do is take photos and videos of the hazardous conditions that caused your accident.
Notify the manager. The manager should file a report. If possible, obtain a copy of this report.
Obtain the contact information of witnesses. If any bystanders saw your accident occur, you should ask for their contact information. They may be able to corroborate your version of events if need be.
Hire a skilled personal injury attorney. Proving negligence can be difficult. An experienced personal injury attorney may be able to gather further evidence, for example, obtaining security footage.
Make sure to file your claim on time. In New Jersey, for the most part, you will have two years to file a claim.
If you or a loved one has been injured due to a supermarket accident, contact our firm today to discuss your case.
Contact our Firm
Our firm understands how serious criminal and personal injury cases are. We are prepared to guide you towards a favorable outcome because we believe false accusations or preventable injuries should never cause a person harm. This is why those who require experienced legal counsel in New Jersey should do themselves a favor and contact The Law Office of Andrew S. Maze today for any criminal and personal injury matters.