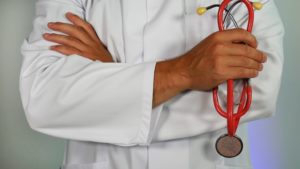 An injury can impact your life in a number of serious ways. For example, an accident will usually mean taking time off from work, which can lead to lost wages and opportunities. Additionally, you may be met with exorbitant medical bills, as an injury can lead to hospital stays, surgeries, at-home care, etc. You may also experience pain and suffering, loss of enjoyment of life, and more. If your injury was a result of another party's negligence, you may deserve compensation to help ease these burdens. But, following your doctor's advice can play a large role in this process. Read on to learn more.
What to know about insurance adjusters
It is important to know that insurance adjusters are looking to give you less compensation than you deserve. As a result, they will look for ways to discredit you. For example, they may claim that you are not as injured as you say you are, or that you are not actually injured at all. If you do not follow your doctor's advice, insurance adjusters can use this as evidence that you were not seriously injured to begin with, or that your struggles are not a result of the initial injury, but because of your failure to follow your doctor's medical advice.
What do I do after an accident?
In order to recover the compensation you deserve, it is important to:
Go to the doctor immediately after your accident occurs: This will provide you with proof of the origin and extent of your injuries.
Carefully follow your doctor's advice: Not only will this help your healing process, it will also help keep insurance adjusters from discrediting you.
Check-in with your doctor: This will allow him or her to document your progress.
Keep strict records of your doctor's visits, your recovery, your medical expenses, and more.
If you were injured as a result of another party's negligence, our firm is here to help. We will advocate for you and fight to recover the compensation you deserve. Reach out today to discuss your case with an experienced and dedicated attorney.
Contact our Firm
Our firm understands how serious criminal and personal injury cases are. We are prepared to guide you towards a favorable outcome because we believe false accusations or preventable injuries should never cause a person harm. This is why those who require experienced legal counsel in New Jersey should do themselves a favor and contact The Law Office of Andrew S. Maze today for any criminal and personal injury matters.