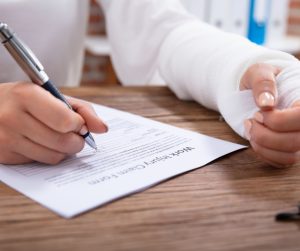 Workplace injuries are an ever-present danger to the safety and livelihood of everyday working Americans. Accidents can happen in any workplace, from a construction site to an office park, and millions occur every year. In 2021, there were over 2 million reported cases of non-lethal workplace injuries in the United States. It is important to understand your legal rights in case you are ever injured in your workplace. Read on for everything you need to know about workplace injury law.
Workplace Injury Law Basics: Workers' Compensation
If you are injured in your workplace, you can be protected from having to file a lawsuit against your employer because of the workers' compensation system. Workers' compensation is a type of insurance that ensures workers injured on the job can get compensated for medical bills and lost wages without having to file a risky lawsuit against their employer. If you file a workers' compensation claim, you are prohibited from suing your employer, but your medical bills and a percentage of your lost earnings are compensated.
When it comes to workplace injuries, it is important to have experienced legal representation in case your claim is disputed and sent to workers' compensation court. If your workplace injury was caused by the negligence of a third party, like a safety equipment manufacturer, you may also have reason to sue that third party and file for workers' compensation. However, if you win such a lawsuit, you will probably be responsible for paying back some of your workers' compensation funds.
New Jersey Workplace Injury Law
Workplace injury law in New Jersey is governed by The New Jersey Workers Compensation Act enacted in 1911. The law established the "No Fault" system in which workers give up their ability to sue their employers for work injuries in exchange for swift access to compensation. The act covers all New Jersey workers with the exception of longshoremen and U.S. government employees. In New Jersey, you must report your injury to your employer within 90 days to avoid risking your right to benefits. If for some reason your claim is denied, you have two years to file an appeal with the New Jersey Division of Workers' Compensation. New Jersey workers can access five types of workers' compensation benefits, depending on their specific situation: medical, temporary disability, permanent partial, permanent total, and death benefits.
What To Do If You Suffer A Workplace Injury
If you suffer a workplace injury, you will need to follow these steps: 
Report your workplace injury to your employer so they can get in touch with their insurance company and get pre-authorization for your medical treatment.

Seek medical attention immediately, particularly if your case is a life-threatening emergency.

Contact the Law Office of Andrew S. Maze so that we can consult with you on any forthcoming legal issues regarding your workers' compensation claim.

Give your employer a detailed description of the incident. The description can be given orally or in writing, but giving it in writing is in your best interest because it creates a paper trail that may come in handy later. Provide your employer with any medical documentation they request. 

Keep all documentation about your injury and medical treatment, including medical paperwork and related correspondence.

After you have reported the injury and provided a detailed description, your employer will submit the claim to their insurance provider. The insurance provider will then launch an investigation to determine if they will accept or deny your compensation claim. 

If the insurance provider accepts your workers' compensation claim, you will start receiving benefits. If your claim is denied, you will need to file an appeal with the New Jersey Division of Workers' Compensation so that a judge can make a final decision on your case.

Focus on your recovery. When you are able to return to work will depend on the nature of your injury. The length of time you are unable to work will also define the type of workers' compensation you will receive. If you miss eight days of work or more, you receive temporary total disability (TTD) benefits. These benefits will be equivalent to around two-thirds of your average weekly wage up to a certain limit. 

Return to work and/or seek longer-term disability benefits. TTD benefits last until you return to work or reach the point of maximum medical improvement as determined by your doctor. If you have recovered and are able to return to work, you can do so. However, if you are still unable to work after 400 weeks, or have not regained full bodily function, you may be eligible for permanent total or partial disability benefits. A doctor's rating of your disability will determine your eligibility for further compensation. If you receive a disability rating that you feel is too low, you should contact your attorney to explore your options.
It's possible that your employer, the insurance company, or your physician may purposely or accidentally try to deny you some or all of your workers' compensation benefits at some point in this process. That's why it is essential to have proper legal counsel experienced in workplace injury law working on your behalf.  
Call The Law Office of Andrew S. Maze
If you have been injured in a workplace accident, you will need compassionate and effective legal representation to protect your interests. Call the Law Office of Andrew S. Maze so that we can represent you during this difficult time.