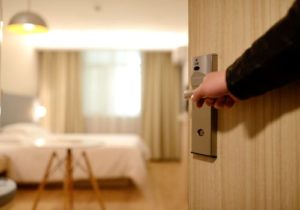 Winter is a popular time for vacations. As a result, you may find yourself traveling in the coming months. When planning a trip, no one plans for an injury. But, an injury can occur anywhere at any time, and it is important to be prepared for all possibilities. Read on to learn more about hotel accidents in New Jersey.
How do hotel accidents occur?
Hotels have a lot of amenities to keep guests entertained. But, if these amenities are not properly maintained at all times, guests can become seriously injured. Some of the most common injuries are due to:
Food poisoning 

Defective furniture accidents

Accidents due to inadequate security

Hot tub accidents

Swimming pool accidents

Unsanitary conditions

Stairway accidents

Parking garage accidents

Gym equipment accidents

Elevator accidents

Sidewalk accidents

Escalator accidents

Accidents due to inadequate lighting
Can I recover compensation after an accident?
Property owners are responsible for keeping the premises safe for guests at all times, and this is true for hotels. Hotel staff keeps the property safe by conducting routine inspections in order to make sure there are no hazards present. If these inspections are not conducted, hazards may arise and go unnoticed, leading to serious injuries. In order to recover compensation, you will have to prove that the property owner knew, or reasonably should have known, about the dangerous conditions that caused your accident to occur, and failed to fix them, resulting in your injury. This proof can be difficult to obtain, so it is important to work with an experienced personal injury attorney.
How long do I have to file a claim?
If you are injured due to another party's negligence, you may face physical, financial, and emotional struggles. In order to ease the burdens the injury has caused, you may be entitled to recover compensation. But, in order to recover the compensation you deserve, you will have to act quickly. This is due to a deadline known as a statute of limitations. In New Jersey, the statute of limitations for a personal injury accident is generally two years from the date of the accident. Failing to file within two years will likely mean losing your opportunity to recover the compensation you need and deserve. Do not let this happen- reach out to an experienced attorney right away.
If you have been injured in a hotel accident, our firm is here for you. Reach out today to discuss your case with an experienced and skilled attorney.
Contact our Firm
Our firm understands how serious criminal and personal injury cases are. We are prepared to guide you towards a favorable outcome because we believe false accusations or preventable injuries should never cause a person harm. This is why those who require experienced legal counsel in New Jersey should do themselves a favor and contact The Law Office of Andrew S. Maze today for any criminal and personal injury matters.