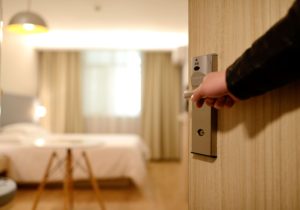 With summer upon us, more and more people are traveling on vacation. Rather obviously, hotels go hand-in-hand with vacation. Generally, hotels serve as a place for us to wake up refreshed and grab some breakfast downstairs, or to wind down at night and get ready for tomorrow's adventures. Unfortunately, hotels are also a place where people get injured. If you were injured in a hotel accident, here are some of the questions you may have:
What are the most frequent types of hotel accidents?
Many hotels will grant you access to various goods and services. However, it is always the hotel's responsibility that you are safe at all times. Unfortunately, hotel employers and staff are sometimes negligent, which may lead to serious injuries. Some of the most common hotel injuries sustained are due to:
Food poisoning 

Defective furniture accidents

Accidents due to inadequate security

Hot tub accidents

Swimming pool accidents

Unsanitary conditions

Stairway accidents

Parking garage accidents

Gym equipment accidents

Elevator accidents

Sidewalk accidents

Escalator accidents

Accidents due to inadequate lighting
Am I entitled to financial compensation following a hotel accident?
You are usually entitled to financial compensation if you can prove that you were injured due to another party's negligence. Hotels must not take advantage of their patrons or their safety, so if you believe your injuries would have been preventable had the hotel taken certain necessary safety precautions, contact an experienced attorney today.
Is there anything I can do to help win my personal injury claim?
Fortunately, there is. Once you retain an experienced attorney, he or she will immediately begin vigorously fighting in your corner. There are other actions you may wish to take as well, for example, retrieving security camera footage. If you obtain video evidence of your accident, you stand a far better chance of proving your claim. Additionally, you must seek medical attention in the minutes or hours following your accident. A medical professional will treat your injuries accordingly and will provide medical documentation detailing the extent of your injuries, which you may also use to help prove your claim. Lastly, it is extremely important that you limit your social media posting after filing your claim. The insurance companies may be monitoring your social media accounts, and if you post something that even remotely contradicts your claim, they may use this as evidence to deny you of your compensation.
Contact our New Jersey firm
Our firm understands how serious criminal and personal injury cases are. We are prepared to guide you towards a favorable outcome. If you are in need of experienced legal counsel in New Jersey, please contact The Law Office of Andrew S. Maze today for any criminal and personal injury matters.