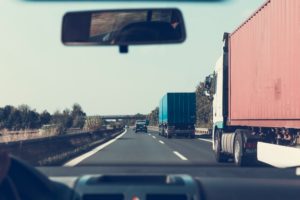 Truck drivers have one of the hardest jobs in the country. They are under tremendous amounts of pressure on a daily basis, and the long, fatiguing hours do not help. However, truckers are the sole motorist in control of a massive piece of machinery, and if a trucker fails to exercise the necessary safety precautions, the results can be devastating. If you were involved in a truck accident, here are some of the questions you may have:
What are the most common causes of truck accidents?
Poor visibility: Since trucks are so large and tall, they often have massive blind spots that severely limit their ability to see vehicles at their immediate sides. Many truck accidents will occur because a truck driver did not see another vehicle and ran it off the road. 

Work deadlines: As the entire country is depending on their product to arrive on time, employers know it is bad for business if their drivers do not perform at maximum efficiency. Therefore, the drivers are oven pressured to speed and drive in a reckless manner in order to complete their job on time. Truckers may also work up to 70 hours in a week, so they are very often fatigued, and perhaps even too tired to be doing their job. This, rather obviously, is a very serious safety hazard.

Mechanical issues: If a truck blows a tire or breaks down in some way, there is a strong chance of an accident occurring. This is why employers should ensure their trucks are always in tip-top shape before allowing their drivers to take them out on the road. 
How do I know if I am entitled to compensation following a truck accident?
If you are able to prove a truck driver or his or her employer's negligence led to the injuries you have sustained, there is a very good chance you will be entitled to financial compensation.
How do I prove truck driver negligence?
There are several different indications of truck driver or truck employer negligence. Here is a list of negligent driving behavior:
Driving under the influence of drugs or alcohol

Speeding

Texting while driving

Reckless driving

Sudden lane changes

Failure to comply with traffic signs and lights

Ignoring other rules of the road
Just as truck drivers may behave negligently, here are some of the ways in which a truck employer may be negligent as well:
Improper truck maintenance

Improperly loaded or oversized vehicles

Negligent hiring or employee training
Contact our New Jersey firm
Our firm understands how serious criminal and personal injury cases are. We are prepared to guide you towards a favorable outcome. If you are in need of experienced legal counsel in New Jersey, please contact The Law Office of Andrew S. Maze today for any criminal and personal injury matters.