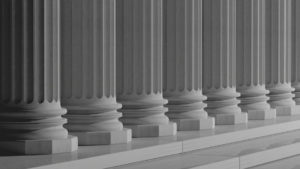 When there's an active, domestic violence between a couple one side or the other may file criminal charges as well as a restraining order against the other party. A judge will immediately have a hearing and determine whether or not the parties need to be separated and stay apart. That is called a temporary restraining order. They are liberally granted by the judges in New Jersey. Subsequent to that the court will schedule, within a very quick period of time, a hearing on a final restraining order. That is where both sides go in before the judge and the person seeking the restraining order will try to convince the judge that they need to be permanently separated from the person they no longer want to be in their life. The person that the charge is against may be trying to convince the judge why the facts and circumstances are not as serious they're led to believe by the other party.
Restraining orders are taken very seriously in the court because the people requesting them are typically in a dangerous situation and fear for their safety. The court wants to make sure that anyone in a potentially dangerous situation can have a no-contact order with the person who may cause them harm. As an experienced domestic violence attorney, I have represented both sides of the equation and I would be more than happy to meet with you and discuss this situation in private in my office in Woodbridge.
If you are in need of experienced legal counsel in New Jersey, please contact The Law Office of Andrew S. Maze for any criminal and personal injury matters.