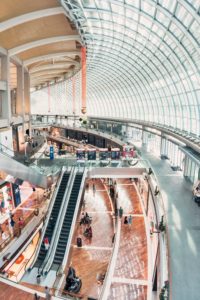 Everyone has been on an escalator at some point in their lives. Chances are, you haven't thought much about them, as they are nothing more than a 20-second mundane aspect of our day. However, if you were in an escalator accident, you were most likely taken by surprise, as nobody expects trouble when stepping onto an escalator. This is why most people who have been injured in escalator accidents seek financial compensation to help cover their medical bills, lost wages, in-home care, and more. If you find yourself in this situation, here are some of the questions you may have regarding your legal options going forward:
What causes escalator accidents?
Escalator accidents can happen due to any number of factors, including, though not limited to:
Missing foot brushes
Gaps and spaces
Missing steps
Overcrowded escalators
Escalator design flaws
Clothing or limbs getting snagged by machinery
Loose or missing screws
Improperly working emergency shut-off buttons
Faulty handrails
Electrical or mechanical malfunctions
Escalators reversing direction, resulting in a pileup
Finger entrapments
Between-step entrapments
Missing comb plates
Inadequate escalator lighting
What injuries are caused by escalator accidents?
Some injuries that have recovered compensation in the past are as follows:
Cuts and bruises
Concussions
Torn ligaments
Traumatic brain injuries
Joint injuries
Spinal cord injuries
Soft tissue injuries
Broken bones
How do I recover compensation following an escalator accident?
Simply filing a lawsuit is not enough. You must hire an experienced attorney who is capable of satisfying the burden of proof. To recover financial compensation, you must first prove that another party's negligence was responsible for the injuries you have sustained.
How do I prove another party's negligence?
To prove you were injured due to another party's negligence, you and your attorney may use security camera footage, medical documents, witness statements, police reports, and pictures of the safety hazard that caused your injuries to prove your personal injury claim.
What is the statute of limitations in New Jersey?
In New Jersey, if you are injured and wish to file a lawsuit, you have a limited amount of time to do so. If you do not file your lawsuit within two years of the date of your accident, you will most likely be denied the financial compensation you may truly need. Do not wait–hire an experienced attorney who is ready to fight in your corner.
Contact our experienced New Jersey firm
Our firm understands how serious criminal and personal injury cases are. We are prepared to guide you towards a favorable outcome because we believe false accusations or preventable injuries should never cause another person harm. This is why those who require experienced legal counsel in New Jersey should do themselves a favor and contact The Law Office of Andrew S. Maze today for any criminal and personal injury matters.