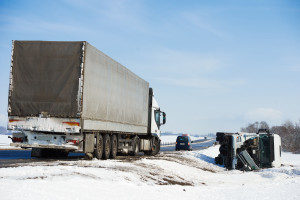 There are many major roads in the state of New Jersey that can become very busy. If a driver is not always careful on the road, accidents can sometimes happen. Trucks are one of the largest vehicles on the road, weighing as much as 30 times more than a regular vehicle. Because of their immense size, they can be very difficult to control on the road. This makes truck accidents some of the most dangerous that can happen on the road. If a truck driver is not careful at all times, they have the potential to cause very serious injuries to other drivers. If you were injured as the result of a truck accident, an experienced attorney can help your case.
Types of Accidents
There are many ways that a truck accident can happen. Depending on what kind of vehicle a truck collides with, every outcome of an accident can be different. Some examples of truck accidents can be:
Head-on collisions

Rollover accidents

Blind spot accidents

Jackknife accidents

Underride accidents
Causes of Accidents
If a truck driver does not do their job safely and follow the rules of the road, they could injure many other people on the road. Harmful driving decisions have the potential to seriously hurt others. There are numerous factors that may go into causing a truck accident. These factors may include:
Safety regulations:

If a truck driver violates rules of the road, they can cause accidents. This includes change lanes improperly, passing vehicles unsafely, or follows other vehicles too closely.

Reckless driving:

If a truck driver is driving irresponsibly, it can be difficult for them to handle the vehicle. The average truck requires a length of about two football fields in order to come to a complete stop. If truck drivers are reckless, it can be difficult to control the vehicle.

Poor visibility:

Due to their size, trucks have a limited view of the entire road. They have large blind spots that can trap other vehicles and cause accidents.

Drowsy driving:

The law allows truck drivers 11 hours on the road within a 14-hour work day, giving them a maximum of 70 hours a week. If they drive longer than this, they may cause an accident because of drowsy driving.

Mechanical problems:

It is possible for trucks to fall to mechanical issues that can cause accidents. This can include tire blowouts, brake issues, breakdowns, and more.
Negligence
When an individual wishes to hold another party responsible for their injury, they must prove that the party was negligent. In order to do this, they must collect evidence that shows the accident happened as a result of that neglect. Trucks typically have a "black box" that records the speed they were driving when the accident happened. It is important to make sure you secure this information so that it cannot be deleted.
Contact our Firm
If you or someone you know has been injured as a result of a truck accident and seek legal representation, contact The Law Office of Andrew S. Maze today.
Our firm understands how serious criminal and personal injury cases are. We are prepared to guide you towards a favorable outcome. If you are in need of experienced legal counsel in New Jersey, please contact The Law Office of Andrew S. Maze today for any criminal and personal injury matters.