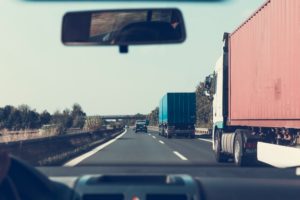 Due to the Coronavirus, there has been high demand for a variety of products as people in New Jersey are asked to stay in their homes. As a result, more deliveries are being made by trucks across the state. It is important that those who drive these vehicles are careful and alert at all times. This is because trucks are the largest vehicle on the road, making them the most dangerous as well. Accidents that are caused by trucks can result in life-changing injuries to those who are involved. When this happens, injured parties can retain the services of an experienced New Jersey personal injury attorney for help recovering compensation.
What are Causes of Truck Accidents?
Truck accidents can be caused by a variety of things in the state of New Jersey, including the following: 
Poor judgement: This can include speeding, reckless driving, improper lane changes, making dangerous turns, following others too closely. 
Distracted driving: Drivers who do not give the road their full attention may not be able to slow down or navigate the vehicle in time to prevent an accident.
Impaired driving: Non-performance errors are the third leading cause of truck accidents. This can include driving under the influence, driving drowsy, or drivers who suffer from a medical condition. 
Vehicle malfunction: When the truck has a defective part or malfunction on the road. 
Poor conditions: When a road is not maintained or if there is inclement weather, accidents can happen.
How Do I Pursue Legal Action?
After a truck accident occurs, those who are injured can begin the process of recovering compensation for their injuries by filing a personal injury claim. This requires the individual to prove the other party was negligent with evidence that shows the injuries were a direct result of their actions. It is important to know that the negligent party may not always be the truck driver, but sometimes a third-party. Evidence that can help a claim can include medical records, a police report from the accident, pictures or video of the scene, witness testimonies, and more. Compensation may be recovered if they prove negligence successfully.
Contact our Firm
Our firm understands how serious criminal and personal injury cases are. We are prepared to guide you towards a favorable outcome because we believe false accusations or preventable injuries should never cause a person harm. This is why those who require experienced legal counsel in New Jersey should do themselves a favor and contact The Law Office of Andrew S. Maze today for any criminal and personal injury matters.