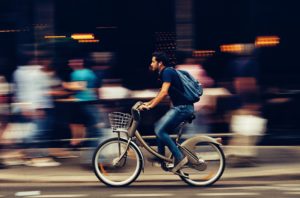 Bicycles are an easy and simple method of transportation as well as a nice leisurely activity. While this is true, it is important to remember that they can also be dangerous, as they provide riders with little to no protection from hazards on the road. If an accident does happen, it can cause severe injuries or even death to those who are riding. It is because of this that bikers should implement the proper safety precautions at all times. Because May is National Bicycle Safety Month, our experienced New Jersey law firm compiled a list of important safety tips to remember while riding:
Make sure the bike is ready to be ridden before taking it out on the road.

Bikes have many parts that need to work properly so that the bike can ride seamlessly. To ensure this, you should check to see that it is in good condition, check the brakes, fill the tires to the proper air pressure, and more. 

Always ride in the same direction as traffic.

Bikers should also use the correct hand signals to let other vehicles know where they are going while riding. This may be if they are making a turn or switching lanes. 

Always wear a helmet.

Any helmet does the job, however, it is better to have one that meets the standards of the U.S. Consumer Product Safety Commission's (CPSC). 

Obey all rules and regulations of the road.

This includes obeying all traffic signs and traffic lights, not biking under the influence, and more. 

Make yourself visible.

Wear bright colors and reflective gear when riding so that other vehicles can see you as you go, preventing an accident. 

Pay attention to your surroundings.

It is your job as a rider to do everything you can to prevent an accident from happening, such as paying attention to your surroundings and following the rules of the road.
While these are all crucial tips to remember in order to ride safely, it is an unfortunate reality that an accident can happen anyway. If you are involved in a bike accident due to negligence and sustain an injury, you can pursue legal action to recover compensation for any damages. In doing so, contact an experienced New Jersey personal injury attorney for help with your case. 
Contact our Firm
Our firm understands how serious criminal and personal injury cases are. We are prepared to guide you towards a favorable outcome because we believe false accusations or preventable injuries should never cause a person harm. This is why those who require experienced legal counsel in New Jersey should do themselves a favor and contact The Law Office of Andrew S. Maze today for any criminal and personal injury matters.