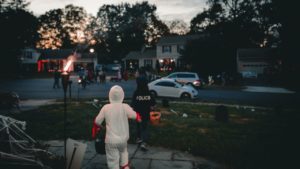 Halloween night would not be complete without handing out candy to mummies and skeletons. If you are expecting trick-or-treaters this year, or if you are taking on the sidewalks with your family, continue reading to learn how to keep everyone safe. If you require assistance from our personal injury attorney after an accident this Halloween, do not hesitate to reach out to our experienced firm. Here are some questions you may have regarding premises liability claims over the Halloween weekend:
How can I make my property safe for trick-or-treaters?
Your property should be prepared for trick-or-treaters this Halloween, especially if you want to avoid facing a premises liability claim. In order to be sure that your property is safe, take the following steps:
Check the steps that lead to your front door to ensure they are not defective and are completely functional
Ensure that your porch, steps, and walkways are well-lit without safety hazards
Double-check that your decorations are placed carefully to ensure no one slips or trips on them.
What should I do if my child is injured on someone else's property?
If your child has been injured due to another property owner's negligence this Halloween, you may have a valid premises liability claim. It is important that you gather evidence while you are still at the scene of your accident to support your claim. Evidence should include the following:
Police report
Medical documents from the treatment of your injuries
Photos and videos of the hazards that caused your accident
Contact information of any witnesses
It is also important that you retain the services of a skilled personal injury attorney who will work to satisfy the burden of proof to recover the compensation you require to heal.
What is the statute of limitations for premises liability claims in New Jersey?
The statute of limitations is two years for premises liability claims in New Jersey. This means that you will have two years from the date of your accident to take legal action against the negligent property owner. Failure to file your claim within two years may result in you being permanently time-barred from taking legal action. The sooner you can bring attention to your claim, the better. To get started with this process, reach out to our personal injury attorney today.
Contact our Firm
Our firm understands how serious criminal and personal injury cases are. We are prepared to guide you towards a favorable outcome because we believe false accusations or preventable injuries should never cause a person harm. This is why those who require experienced legal counsel in New Jersey should do themselves a favor and contact The Law Office of Andrew S. Maze today for any criminal and personal injury matters.