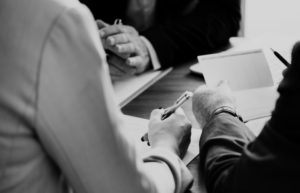 When a personal injury accident occurs, victims often sustain severe physical, emotional, and financial burdens. This tends to lead them to pursue legal action in order to recover compensation. This serves as coverage for these damages. During this time, it is important to retain the services of an experienced New York personal injury attorney for help with your case. This starts with an initial consultation.
What Should I Bring to the Meeting?
Before meeting with a personal injury attorney, it is important to be prepared. This includes providing the attorney with documentation that pertains to your case. Doing so allows them to better understand the situation at hand. Important documents can include the following:
A written description of how the accident and your injuries occurred.

A copy of the police report from the accident.

The names and contact information of any witnesses to be used for testimony. 

Your medical records to prove your injuries.

Receipts of any expenses related to the injuries. This can include any out-of-pocket expenses for treatment and in-home care.

Photos or videos of the accident and your injuries

Your insurance information. This can include health, automobile, renter, or homeowner policies.

Any contact with the other party or their insurance company. This can include letters, emails, phone calls, etc.

Any questions for the attorney regarding your case
What Questions Will I Be Asked?
In addition to documentation, there is another crucial part of an initial consultation. During this time, the attorney will ask a variety of questions pertaining to the accident and your injuries in order to know the case they are representing. Questions you may be asked at the meeting can include the following:
What injuries do you have? How are you feeling?

Have you seen a doctor? What was the prognosis?

Did you talk to any other lawyers or insurance representatives? 

What medical and automobile insurance coverage do you have?

Did you give a statement about the accident to your insurance company?

Where are you employed/what do you do? How long have you worked there?

Have you ever been in an accident before?
Contact our Firm
Our firm understands how serious criminal and personal injury cases are. We are prepared to guide you towards a favorable outcome because we believe false accusations or preventable injuries should never cause a person harm. This is why those who require experienced legal counsel in New Jersey should do themselves a favor and contact The Law Office of Andrew S. Maze today for any criminal and personal injury matters.