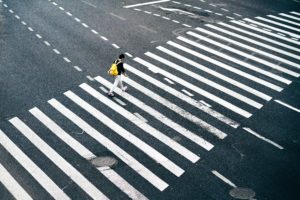 Pedestrian accidents are some of the most deadly accidents that can occur. As a result, it is imperative that both drivers and pedestrians take safety measures. Read on to learn more about pedestrian accidents, how accidents happen, and what to do if an injury occurs.
Common causes of pedestrian accidents in New Jersey
Most pedestrian accidents are caused by negligence. For the most part, this negligence is on the part of the driver. Some of the most common causes of negligent driving include the following:
Reckless driving
Driving while intoxicated
Use of electronic devices
Irresponsible speeding
Distracted driving
Driving while tired or fatigued
However, other factors may come into play when a pedestrian accident occurs. Some of these hazards include the following road and weather conditions:
Poor visibility
Dangerous weather conditions
Potholes
Uneven surfaces
Closed sidewalks
Construction
Notably, in some cases, accidents are caused by pedestrian negligence. This may include failing to use a crosswalk, failing to follow traffic lights, and failing to pay attention. A large number of pedestrian accidents occur when pedestrians cross the street while using their phones.
What do I do if I am injured in a pedestrian accident?
If you are injured in a pedestrian accident, it is important to take the following steps:
Call 911- The police can send an ambulance, file an accident report, ensure the scene is safe, and more.
Seek medical attention- If you have been involved in a pedestrian accident, it is important to go to the hospital, your doctor, or an urgent care facility as soon as possible. This will ensure that your injuries are treated by a medical professional. It will also provide you with important proof of the origin and extent of your injuries. This can play a major role in your personal injury case.
Document the scene- While waiting for the ambulance, be sure to take pictures and videos at the scene of the accident.
Obtain witness contacts – If anyone saw your accident occur, they may be able to provide important witness testimony.
Contact an attorney- A personal injury attorney may be able to obtain further proof of negligence, including security camera footage, police reports, and more.
If you have been involved in an accident, our firm will advocate for you. Reach out today to speak with an experienced and dedicated attorney.
Contact our Firm
Our firm understands how serious criminal and personal injury cases are. We are prepared to guide you towards a favorable outcome because we believe false accusations or preventable injuries should never cause a person harm. This is why those who require experienced legal counsel in New Jersey should do themselves a favor and contact The Law Office of Andrew S. Maze today for any criminal and personal injury matters.