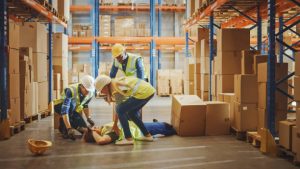 In the United States, workplace accidents are all too common. The Occupational Safety and Health Administration (OSHA) in 2020 reported that private industry employers experienced  2.7 million nonfatal workplace injuries and illnesses. Additionally, OSHA tracks fatalities that occur regularly in the workforce. In March of 2022, for example, Elias Avila-Romero (37) of Illinois was fatally crushed under a forklift. Injuries, illnesses, and deaths stress the system, as well as those who are affected by these workplace accidents. Time away from work can cause financial and emotional strain on employers, workers and their families. Here's how to be compensated for your losses.
Common Causes of Workplace Accidents
There are several very common causes of injuries in the workplace, including:
Slips, trips, and falls

– Slips on icy, oily, or wet floors. Trips due to holes, poor lighting, or clutter. Falls off ladders, roofs, or skyscraper construction areas.

Overexertion and muscle strains

– improper lifting techniques, collapsing structure, lifting, pushing, carrying, or throwing. Microtasks on a factory line, typing, or moving a mouse without good ergonomics.

Struck by workers, equipment, or falling objects

– These types of injuries can include severe hand injuries, severed limbs or fingers, traumatic head injuries, stress fractures or full bone breaks, blindness, and more.

Crashes or collisions

– Driving a motor vehicle or working around them.

Exposure to harmful substances or environments

– Loud environments or being around hazardous chemicals risk severe injuries to the ears, eyes, skin, and respiratory systems if they are exposed without proper protection.
If you experience any type of workplace injury, do not wait to seek medical attention. Injuries can progress over time and cause serious complications later on.
Liability
There is no doubt that employers hold responsibility for an employee's injury that happens at work. However, if the injury was caused by the negligence of a third party, for example, faulty scaffolding on a construction site, then that party can be sued. An employer is required to provide medical assistance for an accident. If an employee is injured, both the worker and employer should seek immediate medical attention which may include calling 911 for any injury that appears serious. Additionally, documentation regarding the incident should include photos, videos, and statements from other workers who witnessed the accident if possible. If you are unable to do so, ask another worker or supervisor to record the information.
New Jersey Workers' Compensation
Workers' compensation is insurance coverage provided by the state that protects employees from overwhelming medical bills and lost wages. If an employee is hurt from a fall, collision, or chemical exposure, they may be able to collect Workers' Compensation. A workers' compensation claim prohibits an employee from taking legal action against their employer. Your medical bills and a percentage of your lost earnings will be compensated. If there is any dispute, New Jersey has a Workers' Compensation court that will decide on the matter. If your claim is disputed, you need the quality legal support of an experienced legal team. 
Additional Compensation for Workplace Accidents
In many instances, Workers' Compensation benefits will not be sufficient to cover all your financial losses. A worker may decide to file a lawsuit to receive additional compensation. An attorney will have to prove one of the following:
The employer caused the dangerous condition or failed to maintain the safety of the worksite.

The employer was aware of the dangerous condition but failed to fix it.

The employer wasn't aware of the dangerous condition, but a prudent employer would have been aware of the dangerous condition and fixed it.
What to Do
If you experience an injury and feel you must bring a lawsuit based on the employer's negligence, or need additional compensation, it's best to seek an attorney with experience in personal injury law. The Law Office of Andrew S. Maze, Esq. will expertly represent your legal needs. As a result,  financial and emotional difficulties are complicated, but Andrew Maze will guide you through your legal options and protect your rights when dealing with insurance companies or third-party lawsuits.