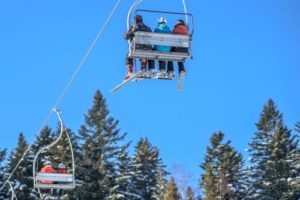 People that go skiing are usually aware that it can be a potentially dangerous activity if they are not careful. While this is true, they trust that a ski resort takes skiers' safety into consideration by taking care of their property to minimize the threat of accidents. If those who are in charge of the resort fail to provide this standard of care, serious accidents can happen that have the potential to cause life-impacting injuries. If you were involved in an accident due to the negligence of a ski resort, it is important to retain the services of an experienced New Jersey personal injury attorney for assistance with your case. 
Common Causes of Ski Accidents
Negligence can be seen at a ski resort in several different forms. This may be by the property owner or their staff if the grounds are not taken care of. When this happens, the resort can become dangerous if certain hazards arise and are not taken care of. Examples can include chair lift malfunctions, defective ski equipment provided by the resort, collisions with misplaced objects, icy conditions around the resort, and more. Other parties that may cause accidents due to negligence may be ski instructors or other skiers. A ski instructor may be liable if they are careless when giving lessons. Other skiers can be negligent if they harm another person by being careless on the mountain.
Common Ski Accident Injuries
Common injuries that can happen at a New Jersey ski resort can include:
Brain injuries

Spinal injuries

Sprains

Leg fractures

Knee injuries

Concussions

Broken bones
How Can I Recover Compensation?
If an injured party wants to pursue legal action after an accident at a ski resort, they can begin to do so by filing a personal injury claim. It is important to know that, during this time, they must prove negligence with the assistance of their attorney. This can be done by showing that the property owner knew or should have reasonably known about the hazard that directly caused the injuries and failed to fix it. This may be the case if the grounds were not properly maintained, designed, or marked. 
Evidence that can be used to assist a case can include medical documentation of the injuries, pictures of the hazard, video of the accident, witness testimonies, and more. It is important to remember that, when pursuing legal action, the statute of limitations in New Jersey on personal injury lawsuits is two years from the date of the accident. 
Contact our Firm
Our firm understands how serious criminal and personal injury cases are. We are prepared to guide you towards a favorable outcome because we believe false accusations or preventable injuries should never cause a person harm. This is why those who require experienced legal counsel in New Jersey should do themselves a favor and contact The Law Office of Andrew S. Maze today for any criminal and personal injury matters.