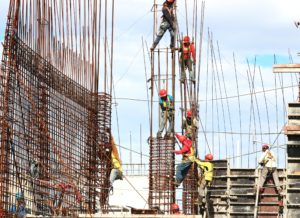 Construction sites are all around us. It is very common to see one while walking down the street on your way to work, or drive past one while running errands. For the most part, we think nothing of these sites. But, sometimes, serious accidents can occur. Read on to learn more about construction site accidents in New Jersey and what to do if an injury occurs.
Most Common Causes of Construction Accidents? 
There are many ways that a construction accident can happen in New Jersey, which can include but are not limited to the following: 
Scaffolding collapses/falls

Crane accidents

Ladder accidents

Explosions

Nail gun accidents

Electrocutions

Lifting injuries

Building collapses

Unsafe property conditions

Negligent management

Exposure to hazardous materials

Blade/saw accidents

Falls
What Do I Do After an Accident?
Construction workers and innocent bystanders can both find themselves seriously injured as a result of a construction site accident. If you are a construction worker who has been injured on the job, you will likely be covered by workers' compensation. But, if you are an innocent bystander, you may be entitled to recover compensation. Either way, there are some important steps to take in the event of an accident:
Call 911. The police can send an ambulance, collect witness statements, and more.
Document the scene. If possible, it is important to take photos and videos at the scene of the accident. Make sure to document the hazardous conditions that caused your accident.
Obtain witness contacts. If someone saw your accident occur, ask for their phone number or email. They may be able to corroborate your version of events.
Seek medical attention. If you have been injured, it is important to go to the hospital, your doctor, or an urgent care facility right away. Some people attempt to go home and recover on their own after an accident. This is almost always a mistake. Going to the hospital helps ensure that your injuries are treated by a medical professional, while simultaneously providing you with proof of the origin and extent of your injuries.
Contact a skilled personal injury attorney. An attorney may be able to obtain further evidence, including security camera footage.
If you have been injured due to a construction site accident in New Jersey, contact our firm today to discuss your case.
Contact our Firm
Our firm understands how serious criminal and personal injury cases are. We are prepared to guide you towards a favorable outcome because we believe false accusations or preventable injuries should never cause a person harm. This is why those who require experienced legal counsel in New Jersey should do themselves a favor and contact The Law Office of Andrew S. Maze today for any criminal and personal injury matters.