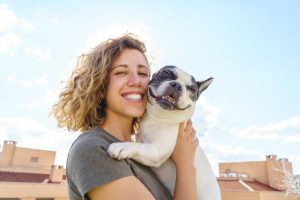 We Love Dogs
Dogs are a great addition to one's life! They provide unconditional love, affection, and companionship. Dogs become a member of the family and brighten lives. There are many benefits to having a dog:
The benefits of dog ownership are plentiful, but sometimes there can be unexpected liabilities if a dog bites someone. If bitten, medical assistance should be sought. Dog bites can lead to serious medical issues and impact a person's life in many ways. Dog owners can be held liable and sued in civil court for damages due to their negligence.
Bitten
Dog owners are, for the most part, responsible people. Some dog owners do not train their animals or train their dog to be aggressive leading to dangerous situations. When you are bitten by a dog, and have serious injury, it is important to seek medical attention as soon as possible. Dog bites can lead to rabies or tetanus infection. Symptoms of infection include redness, swelling, increased pain, and oozing. A doctor should look at these symptoms right away. Afterward, you should get information about the dog and the owner such as their name, phone, address, dog breed, and the dog's inoculations.
Dog Owner Negligence
The negligence of an owner to control their dog resulting in a bite is a very serious offense in New Jersey. An injury can complicate your life with mounting medical bills, lost wages, and impact your quality of life.
All dogs must be leashed and the owner must retain control of the dog in a public place. Failure to do so makes an owner liable for damages. New Jersey has strict laws regulating dogs, including registering dogs and keeping up rabies shot information. Like many states in the country, New Jersey's dog bite statute (New Jersey Statute 4:19-16) provides that if a dog bites someone, the owner is liable. Someone who has been bitten by a dog is able to sue the owner in civil court for damages. The statute reads that the owner of any dog which shall bite a person while such person is on or in a public place, or lawfully on or in a private place, including the property of the owner of the dog, shall be liable for such damages as may be suffered by the person bitten, regardless of the former viciousness of such dog or the owner's knowledge of such viciousness.
If a dog seriously injures a person, a judge has the discretion to pronounce the animal dangerous and decide on euthanasia, however, some cases might allow the dog to remain alive. Nonetheless, severe conditions need to be imposed in order to guarantee the safety of the public.
Should I Get a Lawyer if Bitten?
The Law Office of Andrew S. Maze, Esq. has over 30 years of experience in New Jersey, and has handled many dog bite cases. If you need quality legal services regarding a dog bite injury, you need an attorney that can effectively represent your interests in and out of court. Our firm is ready to assess your case, guide you through your legal options and skillfully protect your interests and your future.