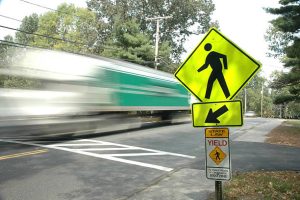 You are walking across the street and, in seconds, you are hit by a car! First, you hear the screeching of the car's brakes. Then your body hits the ground with a thud. You're in pain, possibly bleeding. Your mind is racing!  You are simultaneously terrified and angry. You manage to sit up, but you are unsteady. What do you do?
What to Do If Involved in a Pedestrian Accident
Most people wouldn't be prepared, understandably so, if involved in an accident. After all, no one would expect it to happen in their daily lives. But, in the event you should get struck, the following is a guide on what to do:
Remain calm

– After the impact, you may be angry and want to yell at the driver or even cry, but the best thing is to remain calm. If possible, move off the street and ask the driver to remain at the accident scene.

Call the police

– The police accident report is the best evidence if you file a lawsuit. Once the police have arrived, give a statement slowly and calmly. Try not to get emotional, which can lead to misstatements. Ask the officer to read back your statement after you are finished.

Documentation

– Try to

document anything at the scene

that might be relevant. If possible, take notes before you leave. You'll want to know who was driving, the other driver's insurance, what were the road conditions, was the driver distracted, as well as if there were any witnesses to the accident and what was said. Additionally, you should use your mobile phone to take photos. You'll want photos of the car's damages, the license plate, skid marks, and the position of the vehicle. You'll also want to take photos of your injuries. 

Get medical attention

– Even if you feel alright, you should go seek medical attention. You may also want to consider a mental examination. Many accident victims experience

Post Traumatic Stress Disorder (PTSD),

and it's important to get treatment.

Keep all documentation

– Remember to keep all the documentation you collected. In the event you file a lawsuit, your documentation will be key to the case. This includes any medical bills and lost wages.

Call a personal injury lawye

r – Finally, get an experienced personal injury attorney (

see our prior blog article on Finding a Personal Injury Attorney)

. Accidents can drastically impact a person's life. If you're lucky, you won't suffer any major injuries and you can resume your life quickly. If you were badly injured, you would need substantial financial compensation to help adjust to the new state of your life. An expert personal injury attorney will help you receive the compensation to which you are entitled.
Causes of Pedestrian Accidents
Many pedestrian accidents are due to the negligence of the driver. Some of these can include:
Driving while intoxicated

Use of electronic devices

Speeding and reckless driving
Road conditions can also be the cause of pedestrian accidents. Some of these hazards include:
Potholes

Uneven surfaces

Closed sidewalks

Construction
These elements affect a person's capacity for walking in a safe environment. Additionally, pedestrian accidents are frequently due to poor visibility like parked cars, overgrown foliage, curbside signs, and other obstacles that impair drivers' and pedestrians' visibility all contribute significantly to these incidents.
Call an Attorney
The Law Office of Andrew Maze understands the effects a pedestrian accident can have on the victim and their family. He is committed to producing the best possible outcome for your case. For over 25 years Andrew Maze has provided representation of individuals involved in accidents and guided them through a difficult legal process.
This blog is not meant to provide legal advice, but only to inform the reader