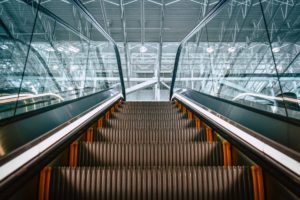 There are many people who use elevators and escalators every day. In doing so, they usually do not consider the thought of being involved in an accident. While this is true, the reality is that these machines can prove to be very dangerous in the event that they are not made or maintained properly. When this happens, they can malfunction and cause serious accidents to those who use them. This can lead to injuries such as broken bones, crushed limbs, brain damage, and more. If you have been injured in an escalator accident, it is important to contact a skilled New Jersey personal injury attorney for assistance. 
What Causes Escalator Accidents?
Due to their size and many moving parts, elevators and escalators can be hazardous if they are not produced correctly and tended to after they are installed. If a manufacturer acts negligently during production, mistakes can be made that cause problems to arise later on, thus causing malfunctions. In addition to this, those who are required to take care of the machines while they are in use must conduct routine inspections. This ensures they are aware of any dangers that come about and threaten the function of the machine. If they do not do their job, even minor malfunctions can result in life-changing injuries. 
Common Types of Accidents
Escalators that are not functioning properly can put those who use them in great danger. Some examples of accidents that can be seen include the following: 
Between-step entrapments

Gaps and spaces

Inadequate lighting

Loose or missing screws

Improperly working emergency buttons

Faulty handrails

Missing steps

Electrical or mechanical malfunctions

Design flaws

Finger entrapments
How Do I Recover Compensation?
Individuals who are injured in an elevator or escalator accident often want to pursue legal action for their suffering. If they are successful during the lawsuit, the injured party may be eligible to recover compensation. This exists as coverage for any damages due to the accident. Common physical damages can include the following:
Concussions

Cuts and bruises

Torn ligaments

Traumatic brain injuries

Joint injuries

Spinal cord injuries

Soft tissue injuries

Broken bones
What is the Statute of Limitations?
After an accident, it is important to not wait too long to pursue legal action. This is because there is a statute of limitations in place. A statute of limitations is a deadline that injured parties are required to meet in order to file a personal injury claim. If it is not met, the injured party may lose their right to receive compensation. In the state of New Jersey, the statute of limitations on filing a personal injury claim is two years from the date of the injury.
Contact our Firm
Our firm understands how serious criminal and personal injury cases are. We are prepared to guide you towards a favorable outcome because we believe false accusations or preventable injuries should never cause a person harm. This is why those who require experienced legal counsel in New Jersey should do themselves a favor and contact The Law Office of Andrew S. Maze today for any criminal and personal injury matters.