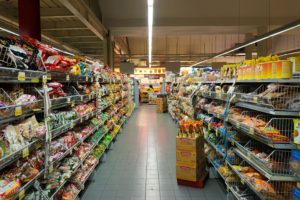 Grocery shopping is something we do often. During the holiday season, you may find yourself at the supermarket even more than usual, as many of us are hosting dinners and parties, or picking up gifts and dishes to bring the host. While stopping by the supermarket may not seem very dangerous, there are a number of ways to sustain an injury while grocery shopping. Read on to learn more about supermarket accidents in New Jersey and what to do in the event of an injury.
Common Causes of Supermarket Accidents
Some of the most common causes of supermarket accidents include: 
Inadequate lighting

Aisle obstructions 

Water spilled on restroom floors

Tainted or spoiled food

Slippery entrances and exits 

Poor pavement and walkway conditions

Freshly mopped floors without proper hazard warning signs

Unstable displays

Potholes in supermarket parking lots

Falling debris and falling items from the shelves

Broken or defective grocery carts

Improperly positioned floor mats

Inadequate security
Common Injuries Caused by Supermarket Accidents
Because the majority of supermarket accidents are slip and falls, the most common accidents sustained include: 
Concussions and other traumatic brain injuries

Back and spinal cord injuries

Fractured wrist or arm

Fractured legs

Cracked pelvis

Fractured hips

Cuts and bruises

Head wounds

Torn ligaments 
These injuries can be life-altering.
Fulfilling the burden of proof:
If you are injured in a supermarket, you may want to take legal action. But, in order to do this, you will have to prove that the supermarket staff either knew or reasonably should have known about the hazardous conditions that caused your accident to occur and failed to act, leading to an injury. In order to obtain this proof, the first thing you should do is notify the supermarket manager that an accident occurred. This will allow the manager to file an accident report. Next, be sure to call 911- the police can send an ambulance to the scene, interview witnesses, and more. Be sure to seek medical attention. This is important to do, even if you do not believe you have sustained a serious injury, as it is possible for an injury to begin showing symptoms days or even weeks later. Before leaving the scene, make sure to take pictures and videos of the conditions that caused your accident, and ask any witnesses for their names and contact information.
If you have been injured in a supermarket, our firm will fight for you. Reach out today to discuss your case with a skilled and dedicated personal injury attorney.
Contact our Firm
Our firm understands how serious criminal and personal injury cases are. We are prepared to guide you towards a favorable outcome because we believe false accusations or preventable injuries should never cause a person harm. This is why those who require experienced legal counsel in New Jersey should do themselves a favor and contact The Law Office of Andrew S. Maze today for any criminal and personal injury matters.